To assist with your product choice;
following is an overview of some products available from this site.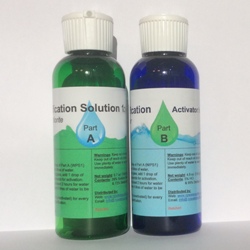 WPS1 kit (Water Purification Solution 1):
The WPS1 kit consists of 28% sodium chlorite and 4% hydrochloric acid. The bottles have a flip-up dropper cap for measuring out the drops. The WPS1 and activator must be activated in a dry glass before adding to any water.
When mixed in equal amounts, chlorine dioxide is produced in just 20 to 30 seconds. Chlorine dioxide is one of the most powerful pathogen killers known to man. Uses include disinfection spray, water purification, and other situations where the control of viruses and bacteria is required. The disinfection spray requires 20 drops of activated WPS1 in 50 mls of water. We also have 50 ml spray bottles available which are handy for household use.
The WPS1 kit is the most popular product (and most economical), and can also be used to purify household tank water or even just water by the glassful. WPS1 can be used to purify water either activated or unactivated. Use at least 1 drop (unactivated) per 4 litres of water - leave for 24 hours.
For quicker purification, use 1 drop of activated WPS1 per 4 litres of water - leave for 2 hours.
Buy now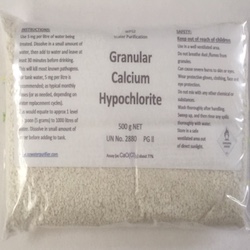 WPS2 (Water Purification Solution 2):
WPS2 capsules contain calcium hypochlorite. When dissolved in water the calcium hypochlorite produces hypochlorous acid which will kill most known pathogens. Hypochlorous acid is actually also produced by the human immune system to combat disease in the body.
Add the contents of one WPS2 capsule to 50 litres of water, (dissolve in a small amount of water before adding to main supply). Leave water for at least 30 minutes before drinking. This will kill most known pathogens.
WPS2 is also available in 1/4 and 1/2 sized capsules. The 1/4 capsule will treat 12.5 litres, and the 1/2 capsule 25 litres.
Buy now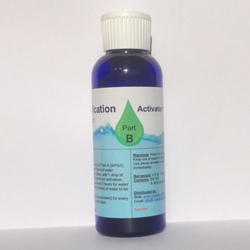 WPS1 Activator - 4% Hydrochloric Acid (4% HCl):
The most common activator which has the least taste in your resulting drinking water.
Note: We can also supply 5% or 10% HCl activator, or 50% citric acid activator by request.
Buy now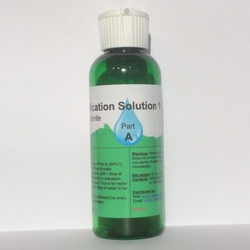 WPS1 (Water Purification Solution 1):
The same uses as above, but sold individually for people who do not need any activator, or who are using their own activator. Lemon juice can be used as an activator. Use 5 drops of fresh lemon juice for each drop of WPS1, and wait 3 minutes to activate.
Buy now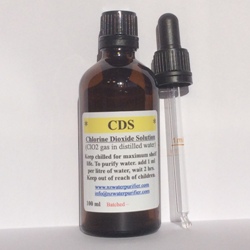 CDS (Chlorine Dioxide Solution):
Consists of chlorine dioxide gas (3000 ppm) in distilled water. CDS is ready to use and doesn't require any activator.
Comes in a handy eyedropper bottle, and should be stored in the fridge for best shelf life. Not as economical as the WPS1 kit, but is handy for some applications.
One ml of CDS is equivalent to 3 drops of WPS1.
Use 3 mls of CDS in 50 ml of water for the disinfection spray.
Buy now
---